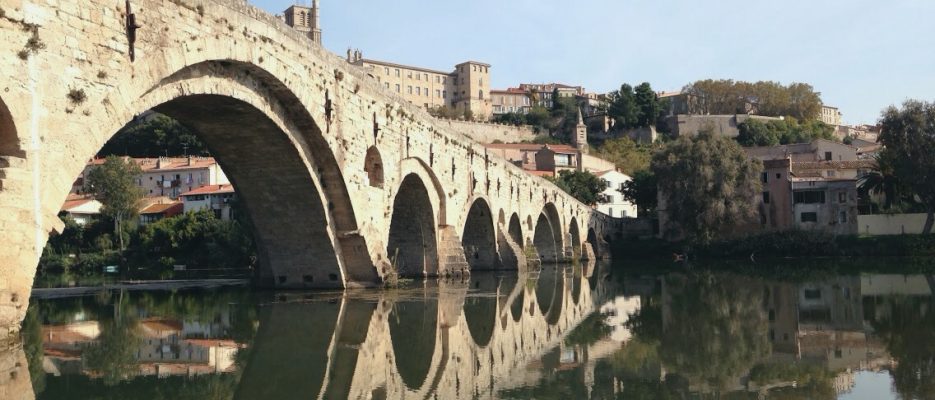 10 Things to See + Do in Béziers
21 November 2017
Béziers is my town. My 'must-see' list, then, probably differs a little from traditional guide books as it is a personal collection of things I love doing and spots I love pausing at in Béziers. I hope you enjoy them, too!
Friday Marché aux Fleurs
Every Friday morning on Béziers' impressive tree-lined avenue Allées Paul Riquet is a flower market. Even if I'm not buying any blooms, I'll take a walk up and down the avenue at this time just to see the seasonal flowers, spot the monsieurs buying a rose head for their madames, listen to the chitter chatter between vendors. It's a beautiful time in Béziers.
View at the Cathedrale Saint-Nazaire
Béziers' cathedral and its surrounds must be one of my favourite spots in town. You'll have seen the building however you first approached Béziers, so imposing is it looking out over the Orb river: King of its castle. Make sure to approach it from the Place de la Révolution. Not only is this one of my favourite squares in Béziers, but the cathedral's scale is magnificent as you walk with it to your left side and approach the look-out spot. I'm not actually sure what it's called but from here on a good day you can spot the Pyrenees. On any normal day, the undulating hills of the Haut Languedoc Natural Regional Park are blurred beautifully in the background and cypress trees curl skyward in the foreground.
Sunday Déjeuner at Les Halles
Béziers' covered marketplace is just a short stroll from home. It is where we get our baguettes in the week and across France, in towns small to Paris, Les Halles are the hub and hive of daily comings and goings, buying, strolling, enjoying food and drink. Especially during the colder months in Béziers, stop by Les Halles for lunch on Sunday. If the streets seem quite, it's probably because people are here.
Amble the Plateau des Poètes
City parks can so often feel unloved and down trodden that it was bliss the first time I walked around Béziers' Plateau des Poètes. It is a complete oasis away from the Mediterranean hum-drum; sloping paths weave between neat patches of grass and overflowing flowerbeds, imposing tree canopies shelter wooden benches and the waterfall silences out the city noise. Since 1990, the whole park has been designated as a protected haven for wildlife and so whether you pause for a picnic or simply pass through on your way down to the train station, navigate towards it at some point during your stay.
Lunch at Au Soleil
Au Soleil is one of my favourite restaurants in Béziers. It occupies a corner of one of the prettiest squares in town and my 'local' square – Place de la Madeline – and at lunch time it erects its colourful sunshades. In hotter months you get the joy of water misting out onto the tables, too! The ever-changing assiettes are always delicious.
Drink stop at La Place du Forum
La Place du Forum was fully renovated in 2012 and it is now the main restaurant and bar square in central Béziers. With its large terraces animated and always full for most of the year, it is the perfect spot for aperitif hour.
Walk to see the Mediterranean
Béziers centre is really quite compact and so it probably only takes a morning to wander the main streets. In my day to day, I have my pathways, my preferred routes, that I use to get from A-B and so it's only after I finish for the day that I might wander somewhere new. One evening during the summer, I found a street that you could spot the Mediterranean from. I couldn't believe it! I'd recommend walking here – to Rue Ferdinand de Lesseps – in early evening to do the same one night… Simple things are sometimes simply the best, aren't they?
Wander the Vieille Ville
I'm lucky enough to live in Béziers' old town and never tire of wandering the little streets. Some of my favourite routes are Rue Mairan, walking from Rue du 4 Septembre, Rue Guibal, when you turn into it from the church corner, Rue de Bonsi with its beautiful apartments to reach the cathedral.
Discover the Pont Vieux
This roman bridge connecting the west of the city over the river Orb dates back to the 12th century. If you stand on the Pont Neuf  just adjacent, you get a fantastic view of it with the cathedral on the hill behind, all reflected in the river.
Sample the summer Guinguettes
Guinguettes were popular drinking and dancing open air venues in Paris suburbs and French towns in the 18th century. The term has seen a resurgence in the last few years and you'll see it in the name of a few summer pop-up restaurants and bars in and around Béziers. The most local to the city centre is La Guinguette de la Laiterie, situated right on the river Orb.
JOIN ME ON INSTAGRAM
This error message is only visible to WordPress admins
Error: No feed found.
Please go to the Instagram Feed settings page to create a feed.