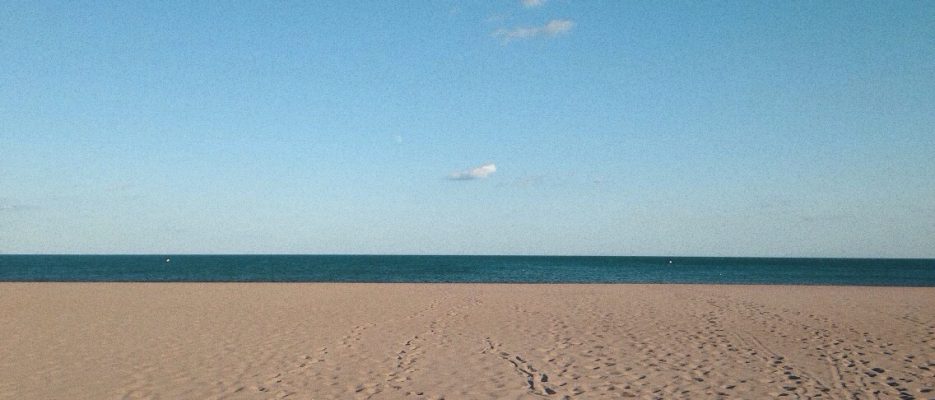 Coastal Corners
21 November 2017
Unlike those in Provence to its east, you'll find the beaches of the Languedoc to be mostly stretches of sand, vast, straight-lined, rugged in places, completely beautiful in all.
You can usually reach them by wooden steps, at the end of straight paths through dunes and grasses of different hues.
They are the perfect ambling companion when the sun tilts away and the water darkens and the sand underfoot cools. They are the dining room for a pizza in boxes, a seat on a bus for pondering thoughts.
These are the beaches that I know.
Saint-Pierre la Mer
This beach definitely beats the rest for its approach. It is situated in Narbonnaise en Méditerranée Natural Regional Park and there is a delicious openness to some of the roads. From Béziers, the small road Chemin de la Draye des Chaudières is beautiful. The beach itself is vast and clean and soft underfoot. Parfait!
Vendres Plage
I first went to Vendres beach in wintertime. It was oh so cold and windy, if I remember, and I didn't stay long, though long enough to immediately fall for its ruggedness, feeling somewhat like I'd found a hidden gem away from the camping grounds and mobile home parks. Make sure to park at the most westerly point, where the Aude river joins the sea. There is a sweet little harbour (Port du Chichoulet) and some seasonal taverns and a restaurant.
Portiragnes Plage
Portiragnes Plage is mine and my husband's 'local' beach. It is where we head to when our little city gets too hot in the summer and when we want to smell the salt in winter.
I love how as soon as you're on the beach you can only see the sand dunes and grasses as a backdrop. The D37 (Béziers > Portiragnes Plage) takes you right by the Canal du Midi – beautiful at any time of the year – and my other favourite spot of the drive is just past the village of Portiragnes.
Head to the Plage Est and park right by the beach.
Farinette Plage
I simply love the view of the Pyrenees from Farinette Plage. There are also rock breaks (I think that's what they're called!) that are fun for practicing your balancing skills on. Walk along the beach and up the path next to Le Libron river for an amble 'around the block'.
JOIN ME ON INSTAGRAM
This error message is only visible to WordPress admins
Error: No feed found.
Please go to the Instagram Feed settings page to create a feed.